All foreigners are required to have entry visas to travel to the Russian Federation. A visa to the Russian Federation is a document, permitting stay in Russia for a specific period of time. A visa lists entry/exit dates, your vital information, passport details. Russian entry visas can be obtained at local Russian Embassy or Consulate, proper authorization – an invitation - from the Passport and Visa Department (UVIR) of the Ministry of Internal Affairs or specially authorized travel agencies is required.
There are different types of visa depending on the purpose of your visit. It is not possible to obtain a visa at the airport or boarder, when entering Russia. You can stay in Russia for the period of time stated on your visa. If you want to stay in Russia longer you must leave Russia and apply for the visa again. Official invitations or so-called visa-support letters are required for all types of visas.
Victoria – Travel offers services for visa support to Russia. Through our web site you may apply for same-day or one hour tourist visa invitations as well as for single, double and multiple entry business visa supports and get the best, personal and attentive service. Just submit the required documents, and your visa support will be processed quickly and efficiently. Your signed passport must be valid and with sufficient blank pages for any visa stamp. The passport 's expiration date must be greater than six months from the date of entry for the visa you are applying for.  
Lowest Rate Guaranteed!!! You can order, pay for and receive your official visa support documents, often within minutes – an unbeatable service!
If you have a question concerning Russian/CIS visa, please, make sure to check our Frequently Asked Questions section. Otherwise, please choose the most convenient way for you to contact us.
You are most welcome to come to Russia!
We are sure that unforgettable atmosphere of this country would live in your memory forever.
New Russian visa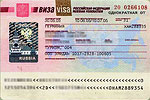 Old Russian visa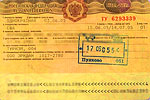 Migration Cards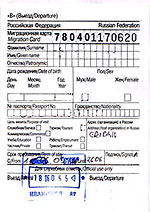 Registration mark